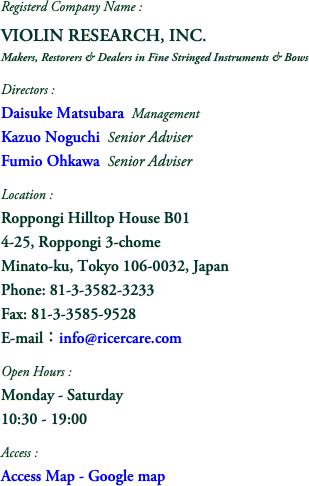 <Company Profile>
Founded in June 1984, "Violin Research, Inc." is one of the dealers of violin family instruments, giving high priority to the workshop affairs, like restorations, repairs, maintenance and productions. We also import and export related products and materials. As a small specialty shop, daily operations are run by four technical staff and three business/office staff.
In view of the musicians' demand and the ability of the instrument itself, we handle relatively large number of old instruments and old bows, but at the same time, as a corporate member of the "JSIMA (Japan String Instrument Makers Association)", we are devoted also to the spread of the contemporary violins. Our workshop staff are working ambitiously on building fine quality violins for the next generation. The abundant knowledge and experience gained through the works of restoration & maintenance of old instruments, including a number of rare violins, are fully exploited for the production.
In addition, we keep the expert services, understanding the unique feelings and sophisticated needs of every customer. Homage to performers and valuable instruments and love for music, are our driving force to achieve a more advanced and high quality work.